Accessory for frames production (Wholesale only)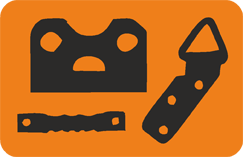 Accessories
Perhaps, you haven't ever met this term before, but accessory are exactly those details, which are used to create the whole object. Frames, appendices, picture frames – everything is done thanks to these details. Accessory is categorizing on several types owing to its assignments:
Accessory for fillets and picture frames
Accessory for frames production
Accessory for photo-frames
Accessory for pictures' appendages
Holder for frames
Accessory for pictures
Accessory occupies an important place in each produced object. However, it is made separately because of need in another technological process. Owners of fillet's workshops often collide with need to buy fastenings and details, which will help fasten pictures and other things surely. In online store you can buy different accessory, which will help you in your everyday life and in the fillet's workshop:
Fasteners for frames
Suspensions, hinges, loops
V-shaped crampons, which are used for frames' sew
Flat tacks for photo-frames
Components for frames production
Suspensions will help you to make certain that picture is fasted surely and V-shaped crampons will help you in fillet's works during the fastening of corner roots.
Our online store offers you inexpensive accessory or fastening for frames, pictures, photo-frames wholesale at a reasonable and good price.